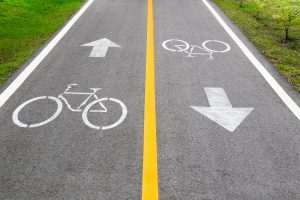 Parking Lot Striping
Welcome to Arrow Striping NWA
We lead the way
If you're in Arkansas, or other surrounding areas, and are looking for outstanding parking lot striping, stenciling and signage, you couldn't have come to a better place.
Arrow Striping NWA has been striping parking lots for over thirty-seven years. We are a service-centered pavement marking company that provides high quality parking lot solutions in Northwest Arkansas.
Here at Arrow Striping NWA, we provide custom solutions for various projects. We cater to the needs of commercial businesses, schools, churches and other establishments that require effective and quality striping, stenciling and signs. Our wide range of products are made of premium-quality materials to ensure durability, accuracy, longevity and performance. No matter what your project may be, we guarantee the best you can expect.
Proper installation of signs, striping and stenciling for parking lots is essential to ensuring optimal results. We at Arrow Striping NWA, give importance to this aspect of our job. To make proper and accurate striping, stenciling and signs, our equipment and tools are regularly updated and are designed to meet the high standards required for the job. We only approve specially designed equipment for effective and long-lasting results. On top of it, we ensure smooth surfaces and clean finish for every parking lot or project you may have.
Here ar Arrow Striping NWA, our best results can only be done by our top caliber team. Our team is equipped with the right skill and knowledge to provide superior quality workmanship. Projects such as pavement marking requires accuracy and precision. This why expert skills and knowledge is highly required for the job. That is what we are trusted for.
We bring to you over three decades of expertise in the signs, stenciling and parking lot striping industry. Through our extensive presence in the industry, we continuously improve our products and services to provide total customer satisfaction.
So if you're in Arkansas, and are in need of an outstanding parking lot striping company, you can count on our expert team here at Arrow Striping NWA!